The most comprehensive All-in-one dental software solution made by dentists for dental professionals in mind
Dentulu provides much more than just Teledentistry and Mobile Dentistry software services. Take advantage of a growing list of essential tools and services that dental professionals can utilize to manage their businesses so they can get back to doing what they love doing, Dentistry!
The Simple, Secure, and Free Teledentistry Solution
Teledentistry and patient communications are an essential part of any modern dental office but in order to implement the full range of Teledentistry capabilities most offices would have to register with 5-10 different companies often spending over $1,500 per month. Dentulu provides all of the Teledentistry options together on one platform with most of the services being offered at no cost and others that can be purchased if and when you need them.
Our dental management software was recognized as the "Best of Class" by the ADA's Cellarant awards and continues to be the most comprehensive dental appointment scheduling platform in the world.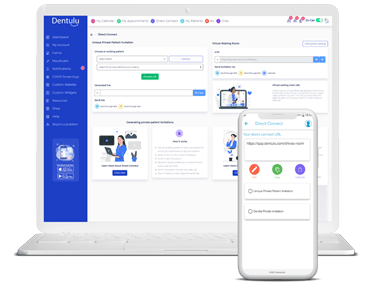 Why should you choose Dentulu's dental scheduling software?
1. Our dental management portal facilitates the after-hours appointment booking
2. Eliminate the need to call the patients
3. Automatic appointment reminders
4. Online payments
5. Maintain customer database easily
6. Multiple location access