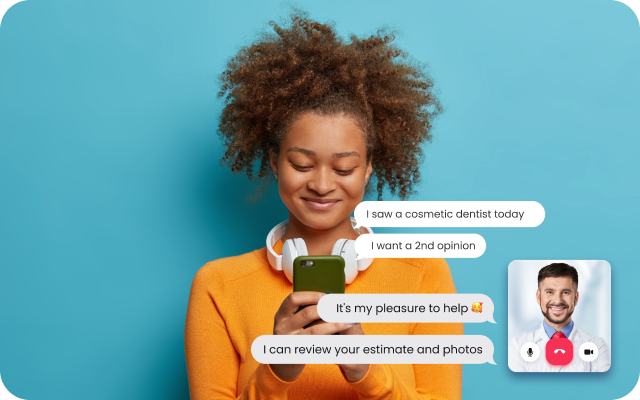 Concept of virtual consultations
in dentistry
Virtual consultations in dentistry allow patients to connect with licensed dental professionals remotely using technology such as video chat, messaging, or email

Virtual consultations can take place on a computer or mobile device, allowing patients to receive dental care from anywhere with an internet connection
Benefits of virtual consultations
for Patients
Increased access to care for patients who may live in remote areas or have difficulty traveling to a physical office

Convenience for patients who may have busy schedules or prefer to receive care from home

Early detection of dental issues through remote monitoring or virtual exams, which can help prevent more serious problems down the line

Reduced costs for patients, as virtual consultations can be a more affordable option compared to in-person visits

Improved communication between patients and dental professionals, as virtual consultations allow for real-time communication and sharing of visual aids such as X-rays and photos

Flexibility in scheduling appointments, as virtual consultations can often be scheduled at a time that is convenient for the patient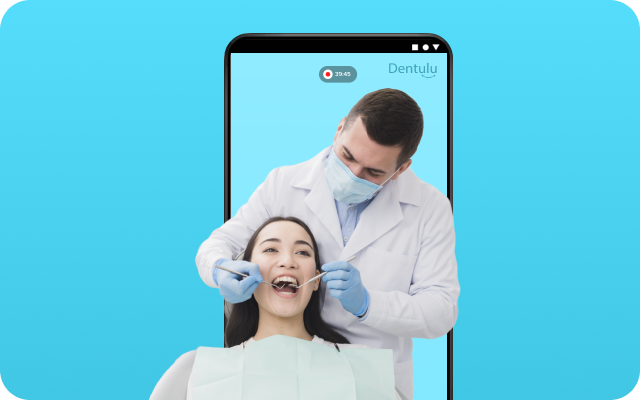 Types of Virtual Consultations
in Dentistry
Dentulu's Virtual Consultation
Services
Dentulu's Virtual Consultation Services provide patients with convenient and accessible dental care from the comfort of their own homes. With Dentulu's powerful network of dental professionals, patients can receive virtual consultations from licensed dentists and specialists across the country.
Dentulu brings together all types of virtual consultations in one place, making it easy for patients to find the care they need. Patients can access video consultations, virtual second opinions, remote monitoring, dental education, virtual dental treatment planning, telemedicine consultations, salivary testing, sleep apnea consultations, and 24/7 emergency dental consultations through Dentulu's platform.
Dentulu's virtual consultations are easy to use and convenient for patients. Patients can schedule appointments at a time that works for them and connect with a licensed dentist from anywhere with an internet connection. This saves patients time and money by eliminating the need for in-person consultations and reducing travel expenses.
Dentulu's virtual consultations also provide a high level of personalized care for patients. Dentists can monitor a patient's dental health remotely using technology such as dental sensors or mobile apps, catch dental issues early, and prevent more serious problems down the line. Patients can receive virtual education on proper dental hygiene, learn about the latest dental technologies and treatments, and receive personalized treatment planning for dental procedures such as orthodontic treatments, dental implants, and smile makeovers.
In addition, Dentulu's telemedicine consultations allow patients to receive medical consultations and prescriptions for dental issues remotely from licensed healthcare providers. This can save patients time and money by eliminating the need for in-person visits and provide timely care for dental issues.
FAQs
A virtual dental consultation is a remote appointment where patients can discuss their dental concerns, ask questions, and receive professional advice from a dentist using video conferencing technology.
To book a virtual dental consultation, visit your dental provider's website or contact their office directly. They will provide you with instructions on how to schedule an appointment and access the video conferencing platform.
You will need a device with a camera, microphone, and internet connection, such as a smartphone, tablet, or computer. A stable internet connection is important for a smooth consultation experience.
While virtual dental consultations can provide valuable information and guidance, they may not be a complete substitute for in-person appointments. Physical examinations, cleanings, and some treatments can only be performed in person.
Dentists can often provide a preliminary assessment and suggest potential treatment options during a virtual consultation. However, a final diagnosis and detailed treatment plan may require an in-person visit for a comprehensive examination.
Most dental providers use secure video conferencing platforms that adhere to privacy and security regulations. However, it's always a good idea to check with your provider about the specific measures they take to protect your personal information.
Many insurance providers cover virtual dental consultations, but coverage can vary. Contact your insurance company to verify if they cover tele-dentistry services and to what extent.
Dentists may prescribe medication during a virtual consultation if they determine it is necessary and appropriate. However, certain medications or situations may require an in-person examination.
While virtual consultations can help assess dental emergencies, they cannot replace immediate in-person care. If you're experiencing severe pain, swelling, or signs of infection, it is important to seek urgent dental care.
Virtual dental consultations can be helpful for discussing dental concerns, but they cannot replace in-person checkups that involve a thorough oral examination, cleaning, and X-rays. Regular in-person checkups are essential for maintaining good oral health.
See more FAQs